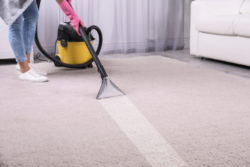 Are there any nasty spots and unsightly stains on your carpets? Then you'll need dependable carpet cleaning in Dublin to give them their old shine back. Soon, you'll be enjoying the freshness and softness of a perfectly clean carpet!
If you're new to hiring cleaning services, you might need some advice on getting your carpet dry quickly after the cleaning. How much time will expert cleaning take? What should you do before and after the service is done? Find out what to expect before you opt for the cleaning company that's right for you.
How long does carpet cleaning take?
When you book an appointment with your professional cleaning crew, they'll arrive fully equipped and ready to get down to business. The process that'll get your carpet back in shape will include a few simple steps:
Assessment: The carpet cleaners will go around the house, checking out the carpets that need a cleaning and determining what needs to be done.
Preparation: Your cleaners will vacuum the carpet and scrub the stains it might have before the actual cleaning.
Setting up: the experts will bring in and set up either a portable or a truck-mounted carpet cleaning machine.
Cleaning: Next, your carpet will be steam cleaned to perfection.
After-cleaning treatment: A carpet protectant can be applied to keep your carpet pristine for a longer period of time.
The length of this procedure depends on the number of rooms to be treated, how long it has been since the last clean-up and whether there are any stubborn stains. Overall, set-up activities can take about 15 minutes while the cleaning itself could last up to 30 minutes per room.
How to dry carpet after cleaning?
After the cleaning is finished, you'll be eager to put your furniture back in place and walk on the splendidly clean carpet. You'll probably want it to dry out as soon as possible, so how can you speed up the process?
Find out if your cleaning company offers drying services. In case they do, carpet cleaning technicians can blow-dry the carpet they've cleaned. They'll use specialised fans to achieve this. These fans blow air closely above the surface of the carpet so that the wetness can easily evaporate.
Alternatively, you can try opening your windows, as well as turning on your air conditioning or a dehumidifier to get the dampness out more quickly.
How long after carpet cleaning to put furniture back?
Steam cleaning a carpet means it will remain wet for a while. You'll have to wait for at least some time before you resume everyday activities over your carpets. The length of this period is determined by various factors. For example, the hotter the day, the sooner your carpets will dry.
Generally, wait at least 5-10 hours before you step on it to avoid getting dirt onto its freshly cleaned fabric. If it's wet, the carpet's fibres could absorb the dirt more easily. You should give it 24 hours before you lay down heavy furniture, just to be on the safe side.
Where to find premium carpet cleaning services in Dublin?
What's the cleaning company that provides the finest carpet cleaning? Dublin's Home Concierge has a team to trust. If you choose us, you can bet your carpet steam cleaning will be performed by trained, experienced cleaners who use and store cleaning supplies according to relevant safety guidelines.
Contact us any day and rest easy. Take a carefree walk past Christ Church Cathedral or enjoy another favourite pastime freely while knowing the cleanliness of your house is in great hands. When you arrive home, you'll be enjoy the fresh scent and softness of a superbly clean carpet!
Check Out Some Of Our Work
Sparkling Bathrooms
Rathmines
Spotless Kitchens
Clontarf
Gleaming Toilets
Blackrock
Brilliant Baths
Santry
Actual Customer Reviews, Typos & All ;- )
"Very happy with the service. Got a once off clean and added a oven clean as extra. The oven was in a bad way but the lady got it looking good as new again."
Roisin O'Reilly
Rathmines
"They were so thorough it blows my mind!! Never seen my place so clean, stuff was shiny that I didn't even know was supposed to be shiny, highly recommend!!"
Kit Green Sanderson
Santry
Get Your 100% Free Quote And Book Online
Get The Same Cleaner EVERY Time
100% Satisfaction or FREE Reclean
Or Call Us To Book Your Cleaning Today